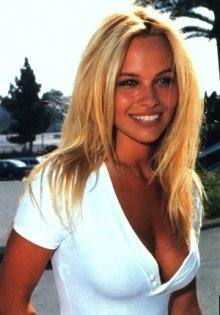 The Pam Anderson Story
Pamela Anderson was born and raised in the small town of Ladysmith, British Columbia on July 1, 1967, Even her birth made headlines as she was the first baby born in the area on Canada's Birthday.
Shortly after that, her parents Barry, a furnace repairman and Carol, a waitress, moved North to Comox, British Columbia. Comox is about 200 kilometers north of Vancouver, British Columbia on Vancouver Island. Upon graduating from Highland Secondary School in 1985 her yearbook entry stated that her aspiration in life was "To be a California Beach Bum".
It was the summer of 1989 when close friends of Pamela invited her to go to a BC Lions Football game with them. Apperently the Lions were playing the Toronto Argonauhts and one of her friends was a representative for Labatt's beer breweries. During the game, a cameraman was roaming the crowd looking for someone to put up on the big screen for all to see. He found Pamela, and when he put her bright smiling face up on the screen, the place erupted!